MURRAY HARVEST FESTIVAL 2007

The 2007 Harvest Festival, held 26-August, went great. The farm had a heavy downpour earlier that morning causing us to consider cancelling, but we decided to go ahead. Fortunately it didn't rain any more, and when the sun came out it was quite warm. Temps were upper 60s to low 70s.
Using the sign-in book, the names on the guessing game sheet, and some rough estimates, we figured there were about 285 people attending thru-out the day. We had 7 acts on the stage from 1:30 to about 7:30pm. We also had plenty of food and drinks, as well as volleyball and badminton courts set up. After the final music act, we set up the outdoor movie, using a projector with small sound system, and watched "Young Frankenstein". We even had microwave popcorn to enhance the movie experience.
Here are some of the results from our latest Harvest Festival. The performer photos are shown in the order they performed in, and I added several other photos I hope you find of interest.
If some pictures don't load, you can right-click on their image box and select "show image" to force it to download. I'm not yet sure why that's sometimes necessary. Alternatively, you click on your browser's "back" button, then "forward", and that will restart the image downloads from where it left off.
---
HILARY HARRIS (Jazz and Latin) Hilary on vocals, Tim Romain on bass, George Turner on guitar, and me on piano. The "stage" is a trailer that Eldon Murray uses for his excavation business.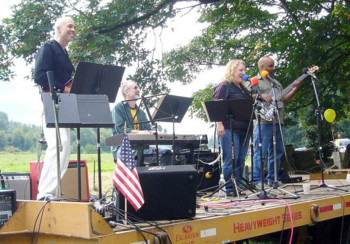 ---
LA BANDA GOZONA (Mexican Band w/ dancers) This group is from Seattle, and they play music mostly from the Oaxacan region of Mexico. They often perform with a large group of dancers, and we were fortunate to have some of them perform with us. The band has about 20 members and we had 13 for this performance. I've been playing tuba with them for about 3 years. For more info on the group, visit their website: http://bandagozona.org The tractor pulling a hay ride is behind us, adding it's sound to our group.
---
NUDIE SUIT STARDUSTERS (classic country) Wearing outfits inspired by country music's tailor Nudie Cohn, they played country classics by such artists as Patsy Cline, Hank Williams, Ernest Tubbs, Lefty Frizzell and others.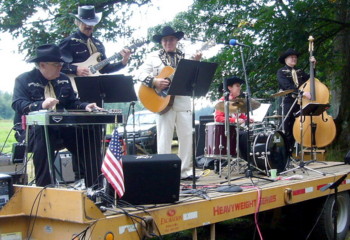 ---
THE GEORGE TURNER TRIO (Classic Rock) George Turner on guitar and vocals, Cheryl Johnson on drums and vocals, and Anthony Peters on bass. If you look closely, you'll see that with nothing more than a simple costume change, Cheryl & Anthony were able to make the transition from country to rock. Cheryl and Anthony are of the "Johnson & Peters Tap Dance" fame. Every year I play piano for their Tap Dance Christmas Carol show, and George has performed in the show the last few years as well. George has been very gracious to the Murray family for providing his PA system for every harvest festival so far. I provide the mics, stands and outboard mixer, but George provides everything else, along with his expertise in running the sound.
This shot shows the reader board with the stage schedule. I think maybe next year I'll try to get someone with better writing than mine to do this.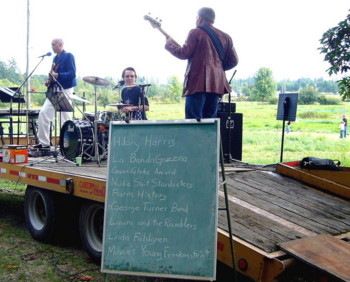 ---
LAURA AND THE RAMBLERS (folk & bluegrass) These are local musicians, mostly who have performed at some of our past festivals.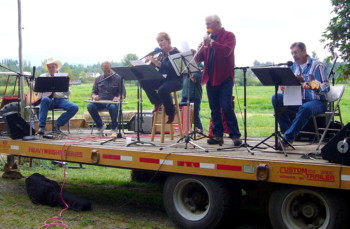 ---
TED ADSIT (Old time country) Mom's special friend, and friend of the Murray family. He plays guitar, harmonica and sings. He wasn't on the schedule, but we were glad to fit him in anyway.
---
LINDA FAHLGREN DUO (Jazz and Latin) Linda on vocals and once again, George Turner on guitar. They played a nice set of jazz standards, and I joined them on piano for a few tunes. At the end of their set, the nearly full orange moon could be seen between clouds, coming up over the mountains in the southeast.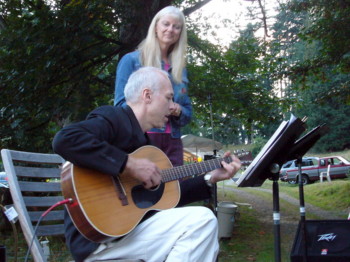 ---
THE HAY RIDE FARM TOUR. We took approximately 10 trailers of about 15 people thru the day, for a total of 150 - some people went twice. We had 2 tractors with trailers. The ride tours the farm, and takes about 40 minutes - depending on how talkative the driver is, and how much of a speed-demon he is behind the wheel. Eldon and George did almost all of the driving. These photos show the passengers awaiting the next driver. Often the trailers would fill up as soon as previous passengers got off, leaving very little time for the drivers to see the festival.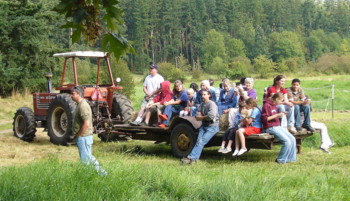 ---
THE FOOD COURT We had several tables of goodies, and a grill going cooking various kinds of hot-dogs. We also had 2 10-gallon containers with lemonade and peach-tea, each filled twice, as well as a 45-cup coffee pot. We went thru 5 pots of coffee - due in part to the cooler than usual weather. Brian said we served 376 hot-dogs (down to our last package!), 320 buns, and used 800 napkins. Many guests bring food to augment our own, making for a nice variety for others to choose from. Keeping the food rotated and organized was a big job. Darwin Newell (one of Brian's friends, in the red shirt) did all of the grilling.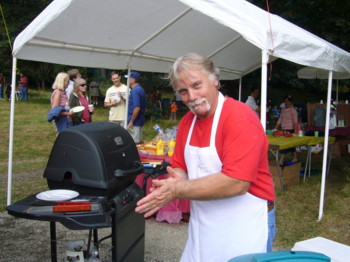 ---
The Amphitheater-like seating area is in the shade of big maple trees. Another maple tree gave shade to the performers on the stage. At any time, there are many people gone on the hay ride. In the first photo, the Gozona band and dancers are performing off to the left of the stage, while the Nudie Suit Stardusters are getting set up on the stage. We provided hay bales to sit on, and some people brought their own fold-up chairs or blankets.
The Nudie Suit Stardusters are on stage.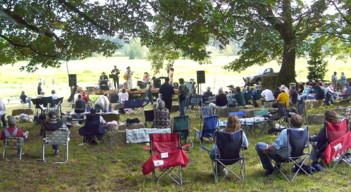 ---
MOM (Phyllis Murray) gave a short talk on the history of the Murray family and the farm.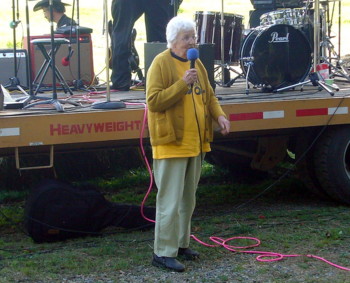 ---
GREEN GLOBE AWARD (Murray Family) In April 2007, the Murray family was presented the Green Globe Award for their resource management of the Murray farm. More info on that award and the other recipients can be found at: http://dnr.metrokc.gov/dnrp/green-globe-award/ The first photo shows the Murray clan, with Elizabeth Weldin (from King County) on stage re-presenting the award to us. The Murrays wearing their Murray LLC t-shirts (with logo designed by Cliff Piraphatanpong) are: Brian, Mom (Phyllis), Eldon (holding award), Jer, Melinda, Ben, Barb, Pat, George, Alison, Megan, Peggy, and me, (Clayton) kneeling.
The 2nd photo shows the award (green disk) and a photo-board of the family history.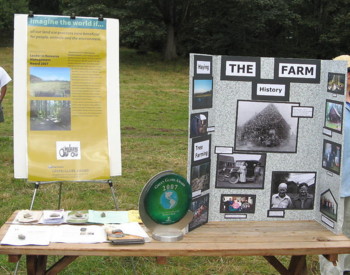 ---
PARKING I merged 2 photos to create this panoramic view. This was taken from a ways up the hill. You can see the food court off to the left and some of the parked cars to the right, and hay fields. The umbrella is where we had the sign-in book and the guessing game. There were 237 straws in the pile of hay. Without the clouds there is a great view of Mt. Rainier from there.
---
GAMES Some people were making use of the badminton and volleyball courts we set up.
---
If anyone has other photos you think might be useful for this page, or anything else of interest, contact me. CONTACT CLAYTON
Thanks, and we hope to see you at the next Murray LLC Harvest Festival, most likely late next August. Check back for updates.
-Clayton Murray - (I was the guy in a yellow Murray t-shirt, running around organizing the bands, doing the MC-ing, running the sound and playing piano, or tuba).
Back To The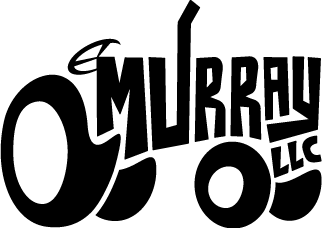 Main Page